Diamond Necklaces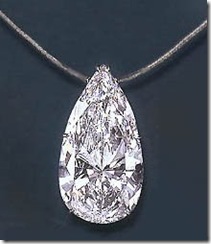 $5 million
Diamonds are not only the girl's best friend. They are also an economical man's worst enemy! It is no secret that diamonds and diamond necklaces as well as diamond jewelry are costly. The ordinary you and I might wish to have a necklace with small, cheap diamonds just to tell others we have diamond necklaces as well, but well, otherwise, the more exotic diamond necklaces with large stones or many stones are simply not for average folks.
How about a diamond necklace that has a pear shaped diamond, about 75 carats? The necklace looks simply stunning with the diamond in it, and it costs only about US $5 million. There is also a diamond ring that is quite cheap – about $1 million. A beautiful diamond necklace, by Stefano Canturi, costs only about &750,000 – $1 million.
The Blue Diamond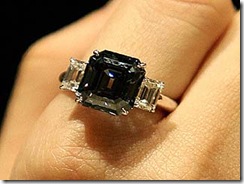 $7.98 million
It is the ultimate diamond in the rough. And if you have to ask how much it costs, you can't afford it. A rare
and flawless blue diamond has set a record as the most expensive precious jewel of its kind ever sold. The gem, which is 6.04 carats and sparkles with an unusual blue hue, is almost as breathtaking as the
price it fetched at a Sotheby's auction in Hong Kong.
Diamond of Hope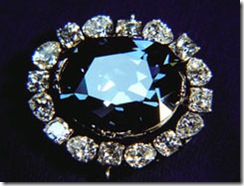 $180,000
Cartier wanted a lot of money," says Washington Post Columnist Sarah Booth Conroy, "and Evalyn was hesitant. So Cartier added, 'Well, we've fixed it up now with a wonderful setting and you'll like it.
Why don't you keep it for a few days?' And so she put it on her dresser and she looked at it and she looked at it…" "For hours that jewel stared at me," remembers Evalyn in her autobiography, "and at some time during the night I began to really want the thing. Then I put the chain around my neck and hooked my life to its destiny for good or evil."
The deal closes at $180,000; Cartier's elaborate sales pitch has worked. The Hope diamond is the largest and most perfect blue diamond in existence, but for the young and impetuous heiress, its fascinating past is the hot selling point. "Besides that," says Conroy, "she thought things that were unlucky for everybody else would be lucky for her, because she was an exception
Chopard Blue Diamond Ring
$16.26 million
Blue diamonds are among the rarest of naturally colored gems. That's why this oval-shaped diamond ring, with triangular-shaped diamond shoulders and a pave-set diamond band in 18-carat white gold, will set you back about $1.7 million per carat. A pricey and unique alternative to the typical engagement
Heart of the Kingdom Ruby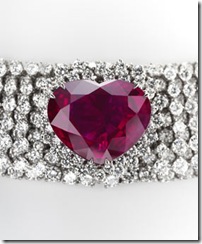 $14 million
This 40.63-carat, heart-shaped Burma ruby, mounted on a 155-carat diamond necklace, claims top spot in the British jeweler's collection. Got a débutante in your family? The diamond necklace can be transformed into a tiara. The stone is accompanied by two independent Swiss laboratory reports that verify its rarity.
Diamond Drop Earring by Harry Winston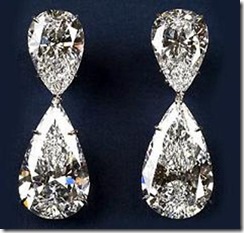 $8.5 Million Earrings
Harry Winston is the 'jeweler to the stars' and you can find him, where else, at the House of Winston at 371 N. Rodeo Drive, Beverly Hills, California. Every year Harry Winston lends out hundreds of millions of dollars worth of jewelry to the stars so they can look good at the Oscars. For 2006 the House of Winston created a pair of 'Extraordinary Diamond Drop Earrings' consisting of two pear-shaped diamonds in a platinum setting totaling 60.1 carats of wallet emptying glitter. If you're interested in buying the world's most expensive earrings be prepared to shell out a cool $8.5 million USD
Magnificent Diamond and Emerald Necklace
 
$3 million-plus
A virtual cascade of white and green, this Magnificent Diamond and Emerald Necklace from Chopard's "Haute Joaillerie" collection will keep all eyes on your sweetheart, whatever the occasion. There are 191-carats worth of Columbia's most beautiful emeralds on there, completely set by 16 carats of rose-cut and drop-shaped diamonds. Though officially "price upon request," you should figure on spending $3 million-plus.
Regal Pear Shape Diamond Pendant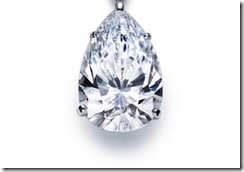 $2.5 million
Showstopper or credit-limit topper? Either way, Tiffany's Majestic Diamond Necklace will be center stagShowstopper or credit-limit topper? Either way, Tiffany's Majestic Diamond Necklace will be center stage wherever it's displayed. With a fluid design that lies softly on the neck–and really, what other way is there?–this glittering choker evokes breathtaking glamour, with a 41.4-carat, pear-shaped diamond accompanied by a multitude of round and pear-shaped diamonds. Each stone is top-of-the-crust in color and clarity, of course, as is the pretty blue box it comes in
Emerald Cocktail Ring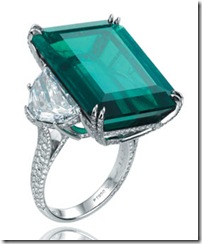 $2.14 million
Luxury watch and jewelry manufacturer Chopard's collection includes many high-priced pieces. But this bold cocktail ring–with half-moon diamond shoulders holding up a 33.02-carat solitaire emerald on a pave-set diamond and platinum band–outshines its rivals.
Novo Yellow Diamond Ring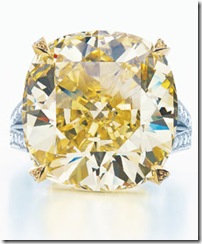 $1.35 million
Of all the pieces one might find inside that famous blue box, this 25.27-carat novo yellow diamond ring set in platinum and yellow gold is priciest. Its beauty and its cost make soon-to-be-engaged girls swoon, and their beaus shudder. Can't make it to the New York City location? Tiffany's efficient online catalog makes ordering from home easy.
Diamond Engagement Rings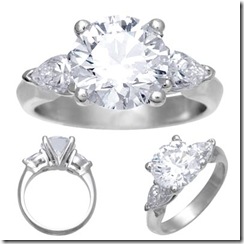 Engagement rings are traditionally known as a symbol of love and proposing. When a man asks a woman for her hand in marriage and in life, this ring is offered. Tradtionally, any ring is usable because the ring itself is a continuous loop symbolizing eternity. But as victims of society, now every man is pressured to use the most expensive piece he can afford, typically a diamond ring. The general rule of thumb is two to three month's salary to show his dedication and sincerity.
Diamond rings became a tradition when the first one was given by Archduke Maximilian of Austria to Mary of Burgundy in 1477. Now it's become a widely practiced ritual by nearly every culture in the world. More than 250 tons of earth is mined before a single 1 carat gem quality diamond is uncovered. The best quality diamonds are usually set into platinum bands for people who perfer the best of the best.
103 Responses to "Most Expensive Jewelry Of The World"
Pamela Jill Euceda Says:
December 17th, 2011 at 2:00 am

incredible THE WORTHLESS NECKLACE BUT THE MOST EXPENSIVE IN THE WORLD DOESN`T HAVE DIAMONDS!!!!$1000,000 THATS THE PRICE!its name is "HIGH TIDE"its was inspired by hard and uncertain times strong waves represent storm of life,we are the rocks with unshakeble will steadfast in our desires take a lookhttp://www.youtube.com/watch?v=Xmq9wD9F9B8 in youtube woow!

pkgdel5 Says:
January 23rd, 2012 at 5:02 pm

Even if I could afford it, I wouldn't buy this jewelry. Would be too scared to wear it out in public!! Plus, if you can afford to buy this, how about putting that money to better use like helping people!!

thinkerg Says:
March 31st, 2012 at 11:40 pm

celebs dont earn 65 million a day you idiot, thier luck to mkae that a year. a celeb could maybe afford a couple of these but the real rich people that arent athletes or celebs, the ones with real money, billions, and trillions are the ones with this stuff. someoene said theyd rather buy a nice car, if u can afford these its chump money to the rich they can have all of these and every car. dumb ass people