Bugatti Veyron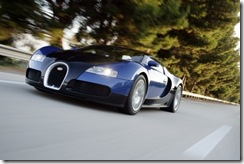 $1,700,000
The Bugatti Veyron 16.4 is the most powerful, most expensive, and fastest street-legal production car in the world, with a proven top speed of over 400 km/h (407 km/h or 253 mph).
It reached full production in September 2005. The car is built by Volkswagen AG subsidiary Bugatti Automobiles SAS and is sold under the legendary Bugatti marque. It is named after racing driver Pierre Veyron, who won the 24 hours of Le Mans in 1939 while racing for the original Bugatti firm. The Veyron features a W16 engine—16 cylinders in 4 banks of 4 cylinders.
According to Volkswagen, the final production Veyron engine produces between 1020 and 1040 metric hp (1006 to 1026 SAE net hp), so the car will be advertised as producing "1001 horsepower" in both the US and European markets. This easily makes it the most powerful production road-car engine in history.