Khajuraho Temple of Love
The name Khajuraho may be derived from khajura (date palm), which grows freely in the area and perhaps because there were two golden khajura trees on a carved gate here. The old name was Kharjuravahaka (scorpion bearer), the scorpion symbolizing poisonous lust. The temples were built under the late Chandela kings between 950 and 1050 AD in a truly inspired burst of creativity. With the fading of Chandela fortunes, the importance of Khajuraho waned but temple building continued until the 12th century at a much reduced pace. Far removed from the political centres of the kingdom, the location of Khajuraho minimized the danger of external attack and symbolized its role as a celestial refuge. Khajuraho's temples were 'lost' for centuries until they were accidentally 'discovered' by a British army engineer in 1839. Of the original 85 temples, the 20 surviving are among the finest in India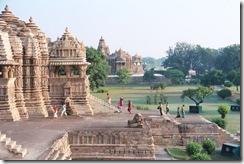 Golden Temple
Amritsar is the holy city of the Sikh religion, because it is home to the Golden Temple. That's real gold on the outside of the temple; when wealthy Sikhs die, they often leave their money to the church to buy a little more gold for the temple. We happened to arrive just after a months-long project in late 1998 and early 1999 to polish all the gold plating on the temple.
Very few tourists go to the Golden Temple, and on the days we went there people would stop and stare at us openly. You have to remove your shoes and walk through a little water trough to clean your feet, and you have to cover your head before entering the temple grounds. They have loaner scarves to put over your head if you don't have a hat or a turban.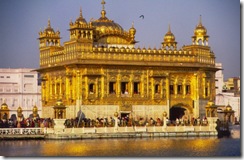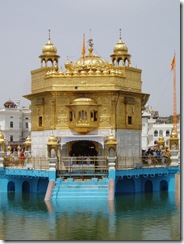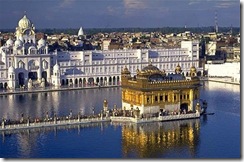 Tiger's Nest Monastery
The Taktshang (the name means "Tiger's nest") is the most famous of monasteries in Bhutan, built on a cliff at 3,120 metres above the bottom. It comprises seven temples, that can be reached on foot. It is interesting that a special permission is required for non-Bhutanese to visit the monastery. Enjoy these images.
Wat Rong Khun
Wat Rong Khun is very different to any of temple you are likely to see in Thailand. A lifetime project of artist Chalermchai Kositpipat, the temple has a fine blend of traditional Buddhist art with contemporary themes. The temple is almost entirely white – no other colours are used at all. It is though decorated with small pieces of mirrored glass which add substantially to the temple's spacious and airy feel. Designed to be viewed in moonlight, if you can manage to get there when the moon is out it's worth the effort – very nice indeed. This temple is certainly worth a visit unless you have limited time.
One Response to "The Greatest Temples of the World"
maryjoy Says:
December 18th, 2010 at 9:33 am

very very beautyful in my eyes
and the place is a full of mystery.